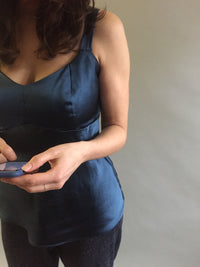 WinkworthBrooklyn
Blue Heavyweight Silk Charmeuse Camisole
This piece is cut to cup size, and is a heavyweight bias silk charmeuse camisole. Beautiful medium-blue color with wide straps to balance perfectly. Length of the camisole is to the top of the hip.
Spectacular, luxe camisole to wear as PJs or with your fav jeans/boots combo.
Message me to pinpoint sizing - the model is a size 30G and you can see how beautiful the fit is when you get it just right...
Each one is custom-made to order. 

Hand wash and line dry, use only a gentle iron.
Ordering clothes online is really tough. I've been hand-producing clothing that reflect more realistic body styles for over two decades. I organize fit by brassiere sizes.
P: 32A, 32B, 32C, 34A
S: 32C, 32D, 32DD, 34A, 34B, 34C
M: 32E, 34C, 34D, 34DD, 34E, 36A, 36B
L: 34E, 34F, 36B, 36C,36D, 38B, 38C
XL: 34F, 34G, 36DD, 36E, 38D, 38E
Sizing is not universal, so I'm happy to chat and help you with measurements, it is revelatory to receive a beautiful piece to treat yourself with and have it fit.