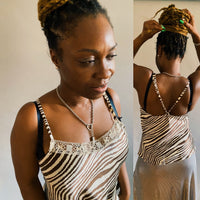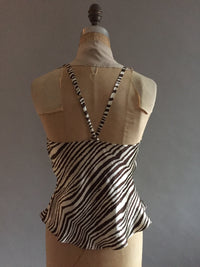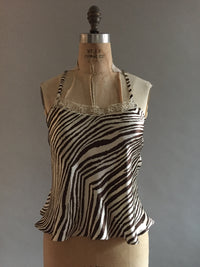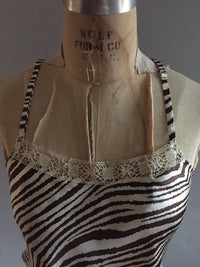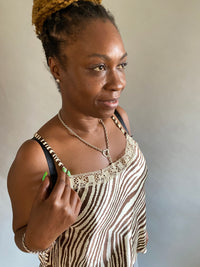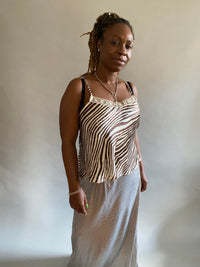 WinkworthBrooklyn
Silk Camisole with vintage lace neckline
Silk against bare skin just is the best feeling. This cute silk charmeuse racerback camisole has vintage Irish lace on the neckline. The straps are adjustable. The animal print will pop any outfit away from basic.
Hand wash, line dry, gentle iron.
S, M, L 
M, the model is wearing a M, she is 5'3", and wears a 32E brassiere.
Sizing:
Hi, ordering clothes online is really tough. I've been hand producing patterns that reflect more realistic body styles for 2 decades. I organize by brassiere sizes.
P: 32a, 32b, 32c, 34a
S: 32c, 32d, 32dd, 34a, 34b, 34c
M: 32e, 34c, 34d, 34dd, 34e 36a, 36b
L: 34e, 34f, 36b, 36c,36d, 38b, 38c
XL: 34f, 34g, 36dd, 36e, 38d, 38e
Sizing is not universal, so I'm happy to chat and help you with measurements, it is revelatory to receive a beautiful piece to treat yourself and have it fit.