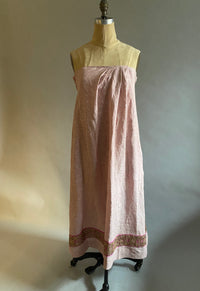 WinkworthBrooklyn
Strapless Blush Pink Handkerchief Linen Dress
Warmer weather is here, and designing dresses that solve the last minute overwhelmed brain "what can I wear" inertia is solving my own problem- I'm so scattered in the morning and I want to simply step into a dress or piece so I don't have to think about my appearance, and I am bedrock in my look for the day- I have to be able to ride my bike, access usable pockets and have a huge meal without ruining the profile of the look- spring/ summer event season is imminent, and why not avoid the dress shopping panic?
bodice has a built in bustier cut to cup size, and it works great! 
Did I mention cute?
This blush pink linen strapless dress dings on all of the above-
Sizing:
Hi, ordering clothes online is really tough. I've been hand producing patterns that reflect more realistic body styles for 2 decades. I organize by brassiere sizes.
P: 32a, 32b, 32c, 34a
S: 32c, 32d, 32dd, 34a, 34b, 34c
M: 32e, 34c, 34d, 34dd, 34e 36a, 36b
L: 34e, 34f, 36b, 36c,36d, 38b, 38c
XL: 34f, 34g, 36dd, 36e, 38d, 38e
Sizing is not universal, so I'm happy to chat and help you with measurements, it is revelatory to receive a beautiful piece to treat yourself and have it fit.