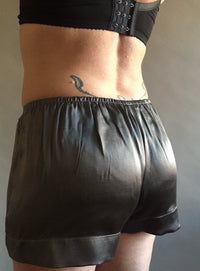 WinkworthBrooklyn
Silk Sleep Shorts
Silk charmeuse is such a hero fiber for Indoor Clothes.
Feels marvelous against the skin, super soft,  center of the Venn Diagram for cute, sexy and luxe. Great for causing trouble and getting out of trouble. Twofer! Sleep shorts to enjoy your mornings at home.
The model wearing the sleep shorts has 38" hips.
Hand wash, line dry, gentle iron.
Size S
1 Available