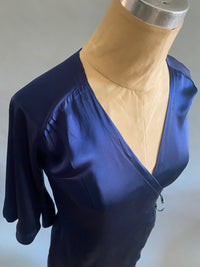 WinkworthBrooklyn
Navy Silk Charmeuse Dressing Gown
Silk charmeuse is super soft. It is an excellent insulator, so if you run chilly, you'll kiss the heavens. It washes beautifully. 
This dressing gown has two bias silk charmeuse ties in the front at the waist with a deep crossover to accommodate curves. It doesn't slip open when you're dancing in your kitchen.  It is tea length. Raglan shoulders with the sleeves @ 3/4 butterfly style length. Lots of volume through the hem. 
Your size is determined by your brassiere size and your height. So Direct Message me to confirm your made to measure 
Sizing:
Hi, ordering clothes online is really tough. I've been hand producing patterns that reflect more realistic body styles for 2 decades. I organize by brassiere sizes.
P: 32a, 32b, 32c, 34a
S: 32c, 32d, 32dd, 34a, 34b, 34c
M: 32e, 34c, 34d, 34dd, 34e 36a, 36b
L: 34e, 34f, 36b, 36c,36d, 38b, 38c
XL: 34f, 34g, 36dd, 36e, 38d, 38e
Sizing is not universal, so I'm happy to chat and help you with measurements, it is revelatory to receive a beautiful piece to treat yourself and have it fit.