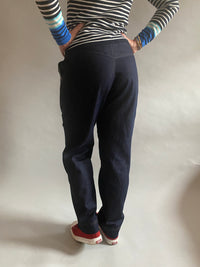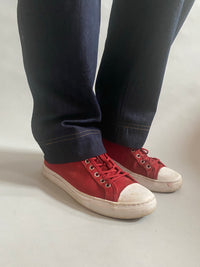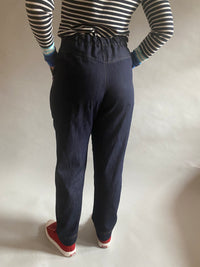 WinkworthBrooklyn
Lightweight Cotton Denim Jeans
Lightweight all cotton denim knockabout jeans. Easy Peasy fit, pre-washed super soft clogbitch jeans. Deep hem for a chic fold- up cuff. These are cut for curve and your booty will look great. Flat front with pockets for your daily necessities, elastic through back waist. Pull up to the bumper with this summer denim. 
 C is wearing a S - she is 5'4", 29" waist, 39" hip.


Ordering clothes online is really tough. I've been hand-producing clothing that reflect more realistic body styles for over two decades. 
P: 24"-26" waist
S: 27"-29" waist
M: 30"-32" waist
L:  33"-35" waist
Sizing is not universal, so I'm happy to chat and help you with measurements, it is revelatory to receive a beautiful piece to treat yourself with and have it fit.