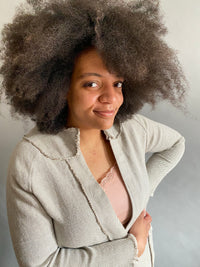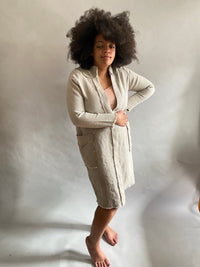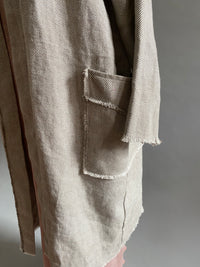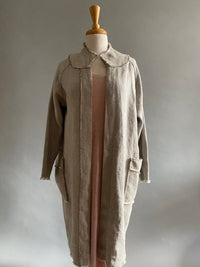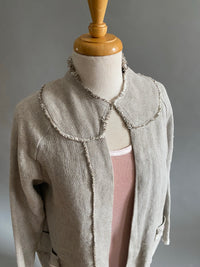 WinkworthBrooklyn
Heavyweight Gray Linen Twill Duster Coat
Super relaxed HEAVYWEIGHT Gray Linen Duster Coat. Raw edges in all the right places, nice big pockets. Raglan sleeves, magnetic closure just about the waist. I love the feel and mood of this coat. 
F is wearing a M, she is 5'5" and a 38DD. 

Machine Washable, hanger dry, quick iron or dry clean.
Sizing:
Hi, ordering clothes online is really tough. I've been hand producing patterns that reflect more realistic body styles for 2 decades. I organize by brassiere sizes.
P: 32a, 32b, 32c, 34a
S: 32c, 32d, 32dd, 34a, 34b, 34c
M: 32e, 34c, 34d, 34dd, 34e 36a, 36b
L: 34e, 34f, 36b, 36c,36d, 38b, 38c
XL: 34f, 34g, 36dd, 36e, 38d, 38e
Sizing is not universal, so I'm happy to chat and help you with measurements, it is revelatory to receive a beautiful piece to treat yourself and have it fit.