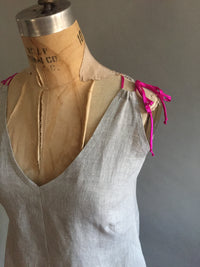 WinkworthBrooklyn
Gray handkerchief linen shortie nightie
Handkerchief linen is such a boon to wear. If you run hot or are a sweaty sleeper, linen wicks away moisture and won't cling to you. This cutie shortie nightgown has a beautiful cut with silk charmeuse shoulder ties.  
Machine wash gentle  and tumble dry gentle.
down low sexy and cute.
One Available S M L each.