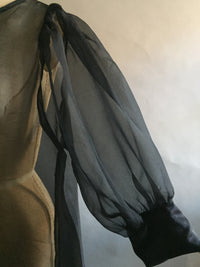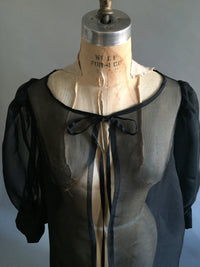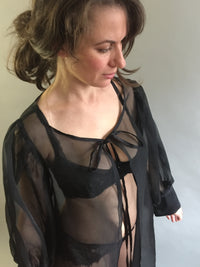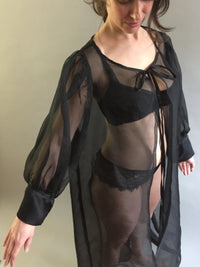 WinkworthBrooklyn
Black Silk Organza Peignoir
Let's have the conversation of the fun you'll have swanning around your home in this peignoir. Pair it with your favorite brassiere & panties or just your thigh high boots... I am your biggest encourager to dress how you want to feel. Add this to your wardrobe as part of your home domination plan. 
Dry Clean Only
Only one available in S / M / L.
Ordering clothes online is really tough. I've been hand-producing clothing that reflect more realistic body styles for over two decades. I organize fit by brassiere sizes.
P: 32A, 32B, 32C, 34A
S: 32C, 32D, 32DD, 34A, 34B, 34C
M: 32E, 34C, 34D, 34DD, 34E, 36A, 36B
L: 34E, 34F, 36B, 36C,36D, 38B, 38C
XL: 34F, 34G, 36DD, 36E, 38D, 38E
Sizing is not universal, so I'm happy to chat and help you with measurements, it is revelatory to receive a beautiful piece to treat yourself with and have it fit.