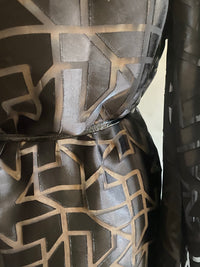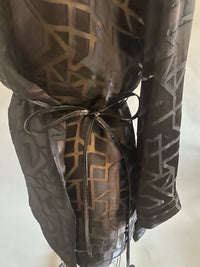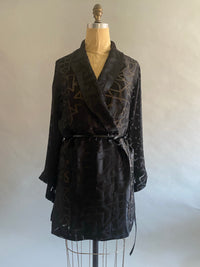 WinkworthBrooklyn
Black Silk Burnout Geometric Shortie Robe
I  ❤️ this black silk geometric burnout. Shortie Robe with  butterfly sleeves. If you've got a winter hotbox NYC apartment and have to confront and resolve your closet inertia, this is a twofer. Fantastic shortie robe for the change of seasons- Leather belt tie, shawl collar. 

This garment needs as much gentle love as possible. Hand wash, gentle dryer, gentle iron, or dry clean. 
Ordering clothes online is really tough. I've been hand-producing clothing that reflect more realistic body styles for over two decades. I organize fit by brassiere sizes.
P: 32A, 32B, 32C, 34A
S: 32C, 32D, 32DD, 34A, 34B, 34C
M: 32E, 34C, 34D, 34DD, 34E, 36A, 36B
L: 34E, 34F, 36B, 36C,36D, 38B, 38C
XL: 34F, 34G, 36DD, 36E, 38D, 38E
Sizing is not universal, so I'm happy to chat and help you with measurements, it is revelatory to receive a beautiful piece to treat yourself with and have it fit.