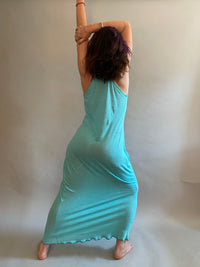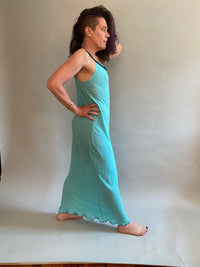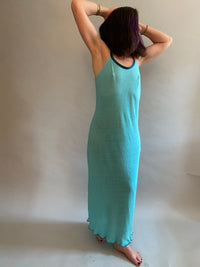 WinkworthBrooklyn
Haint Blue Linen Knit Racerback Nightie
Super soft Linen knit. It skims and wicks away moisture so marvelous for hot climates and hot sleepers.  It's body skimming, so sexy without screaming.
This haint blue nightgown is mid-calf length. The racerback neckline is trimmed in  dark peacock silk charmeuse with adjustable straps. Straps won't fall off of your shoulders. 
Machine wash gentle, tumble dry gentle. Or hand wash, line dry. Or dry clean.
 C is wearing a S, she's 5'4" with a 40" hip
Sizing:
Hi, ordering clothes online is really tough. I've been hand producing patterns that reflect more realistic body styles for 2 decades. I organize by brassiere sizes.
P: 32a, 32b, 32c, 34a
S: 32c, 32d, 32dd, 34a, 34b, 34c
M: 32e, 34c, 34d, 34dd, 34e 36a, 36b
L: 34e, 34f, 36b, 36c,36d, 38b, 38c
XL: 34f, 34g, 36dd, 36e, 38d, 38e
Sizing is not universal, so I'm happy to chat and help you with measurements, it is revelatory to receive a beautiful piece to treat yourself and have it fit.