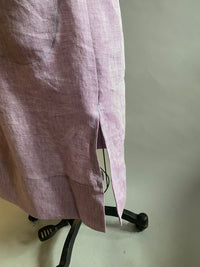 WinkworthBrooklyn
Orchid Handkerchief Linen Caftan
Oooh, you gotta love a good caftan profile. These are really hard to get balanced, the right volume against the body skim so you have flex but you're not overwhelmed and swimming. Handkerchief linen, yarn dyed, POCKETS! This is both INDOOR CLOTHES and OUTDOOR CLOTHES.
Pale orchid linen with turquoise topstitching-


Sizing:
Hi, ordering clothes online is really tough. I've been hand producing patterns that reflect more realistic body styles for 2 decades. I organize by brassiere sizes.
P: 32a, 32b, 32c, 34a
S: 32c, 32d, 32dd, 34a, 34b, 34c
M: 32e, 34c, 34d, 34dd, 34e 36a, 36b
L: 34e, 34f, 36b, 36c,36d, 38b, 38c
XL: 34f, 34g, 36dd, 36e, 38d, 38e
Sizing is not universal, so I'm happy to chat and help you with measurements, it is revelatory to receive a beautiful piece to treat yourself and have it fit.