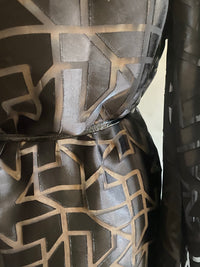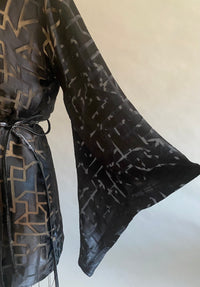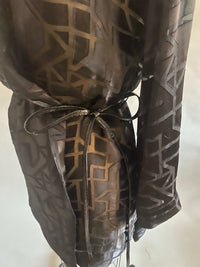 WinkworthBrooklyn
Black Silk Burnout Geometric Shortie Robe
I  ❤️ this black silk geometric burnout. Shortie Robe with  butterfly sleeves. If you've got a winter hotbox NYC apartment and have to confront and resolve your closet inertia, this is a twofer. Fantastic shortie robe for the change of seasons- Leather belt tie, shawl collar. 

hand wash, gentle dryer, gentle iron or, 
dry clean 
 
S Only available 
Sizing:
Hi, ordering clothes online is really tough. I've been hand producing patterns that reflect more realistic body styles for 2 decades. I organize by brassiere sizes.
P: 32a, 32b, 32c, 34a
S: 32c, 32d, 32dd, 34a, 34b, 34c
M: 32e, 34c, 34d, 34dd, 34e 36a, 36b
L: 34e, 34f, 36b, 36c,36d, 38b, 38c
XL: 34f, 34g, 36dd, 36e, 38d, 38e
Sizing is not universal, so I'm happy to chat and help you with measurements, it is revelatory to receive a beautiful piece to treat yourself and have it fit.