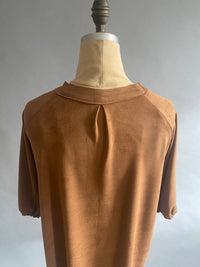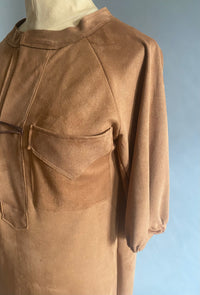 WinkworthBrooklyn
Cinnamon Vegan Suede Shirtdress
Super sexy big placket shirt dress, flower mother of pearl button closure with breast pocket in supersoft cinnamon vegan suede. French darts, raglan sleeves, and gentle elastic on sleeve bottom. I loved this shape so much from the linen summer iteration I made it in my fave fall/winter fiber. This is the first out of the laundry dress that I put on. Brill fall transition dress.


Sizing:
Hi, ordering clothes online is really tough. I've been hand producing patterns that reflect more realistic body styles for 2 decades. I organize by brassiere sizes.
P: 32a, 32b, 32c, 34a
S: 32c, 32d, 32dd, 34a, 34b, 34c
M: 32e, 34c, 34d, 34dd, 34e 36a, 36b
L: 34e, 34f, 36b, 36c,36d, 38b, 38c
XL: 34f, 34g, 36dd, 36e, 38d, 38e
Sizing is not universal, so I'm happy to chat and help you with measurements, it is revelatory to receive a beautiful piece to treat yourself and have it fit.