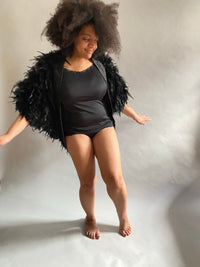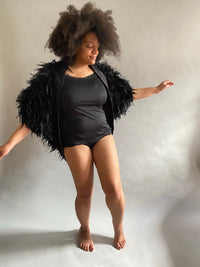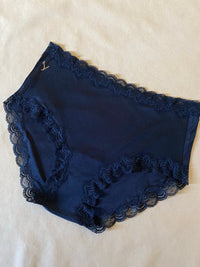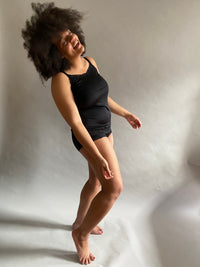 WinkworthBrooklyn
Black Silk Jersey Boy Short Panties
Super-soft silk jersey boy short panties. Great cut, elasticized lace detail edge. I myself have worn this line of undies for years, that's why they're available through my site. Great panties to travel with as well. Though you can throw them in your washer/dryer no problem, they're easy to wash in the sink and hang over the towel rack when in a pinch before your next move on-the-go. Couldn't recommend more!


Our dear model F is wearing a L, she runs a 44" hip. She loved the cut with her curves. Look at how cute the camisole & boy short pair looks with the feather party shrug. 
View the matching black camisole here.

Available also in colors: Papaya, Pine, Greenie, Orange, Shell Pink, Storm Blue,  
Ordering clothes online is really tough. I've been hand-producing clothing that reflect more realistic body styles for over two decades. 
Sizing is not universal, so I'm happy to chat and help you with measurements, it is revelatory to receive a beautiful piece to treat yourself with and have it fit.