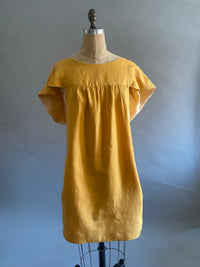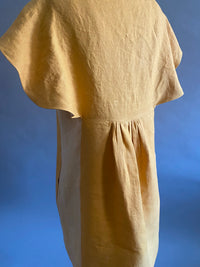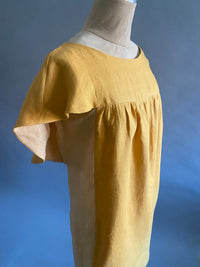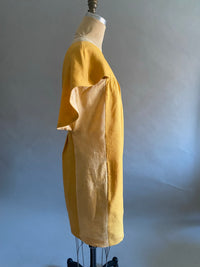 WinkworthBrooklyn
Mustard Linen Sprung/Summer Dress
Summer is here, and I do love a singular statement dress. The capped batwing sleeve shape is super cute. Colorblocking rocks.
This is a great mustard/sunshine dress. It's charming and sexy in the way of "my partner is proposing and I will feel fabulous in this dress". A little fancy and relaxed. Handkerchief linen colorblock detail. Pockets and bicycle friendly.
dry clean, or if you're clever with an iron, machine wash gentle, gentle tumble dry.
Sizing:
Hi, ordering clothes online is really tough. I've been hand producing patterns that reflect more realistic body styles for 2 decades. I organize by brassiere sizes.
P: 32a, 32b, 32c, 34a
S: 32c, 32d, 32dd, 34a, 34b, 34c
M: 32e, 34c, 34d, 34dd, 34e 36a, 36b
L: 34e, 34f, 36b, 36c,36d, 38b, 38c
XL: 34f, 34g, 36dd, 36e, 38d, 38e
Sizing is not universal, so I'm happy to chat and help you with measurements, it is revelatory to receive a beautiful piece to treat yourself and have it fit.