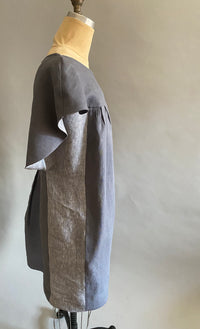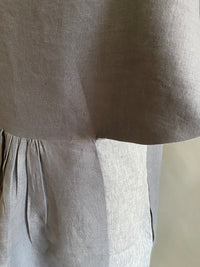 WinkworthBrooklyn
Dark Gray/Heathered Gray Sprung/Summer Dress Dress
Warm weather is here and I do love a singular statement dress. The capped batwing sleeve shape is super cute. Colorblocking rocks.
Dark blue gray linen with a heathered lighter gray handkerchief linen color-block insert . A little fancy, super comfy and all of the advantages of linen. . Pockets and bicycle friendly.
Regardless of where you wear it, you're gonna feel irresistible and comfortable. It will solve the wtf do I wear to my partner's cousin's wedding in some location and who knows what the weather is going to be like?
dry clean, or if you're clever with an iron, machine wash gentle, gentle tumble dry.
Sizing:
Hi, ordering clothes online is really tough. I've been hand producing patterns that reflect more realistic body styles for 2 decades. I organize by brassiere sizes.
P: 32a, 32b, 32c, 34a
S: 32c, 32d, 32dd, 34a, 34b, 34c
M: 32e, 34c, 34d, 34dd, 34e 36a, 36b
L: 34e, 34f, 36b, 36c,36d, 38b, 38c
XL: 34f, 34g, 36dd, 36e, 38d, 38e
Sizing is not universal, so I'm happy to chat and help you with measurements, it is revelatory to receive a beautiful piece to treat yourself and have it fit.